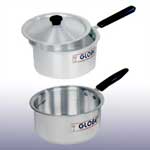 Cookware is one of the basic and most important needs when it comes to cooking any food. One of the most important and handy cookware utensils is the sauce pan. Also, when it comes to using sauce pans, one must keep in mind the material of the sauce pan. Aluminium heats the food quickly. Therefore sauce pans made of aluminium are highly efficient.
Today with the growth of the requirement of different kinds of easily available cookware in the market, there has been a growth in the production of efficient utensils. Many cookware companies manufacture sauce pans. Aluminium sauce pans manufacturers produce various kinds of cookware utensils that have standard quality and structure.
Types of Aluminium Sauce Pans
Most sauce pans are made of aluminium, copper or stainless steel. However, there are a variety of Aluminium Sauce Pans that can be found in the utensil market.
• Mini Aluminium Frying Sauce Pans: These sauce pans have curved walls that help in the easy stirring of food in the pan while cooking. They are mainly made for frying, searing and scrambling. The sloppy sides also prevent the steam formation in the pan while cooking.
• Aluminium Saute Pan: The wide area at the bottom of these sauce pans helps in fast heat conduction resulting in fast cooking of food. These sauce pans are ideal for braising, deglazing, stir-frying, searing and sautéing. The high straight slides help in containing the food and expose the heat to the sides.
• Aluminium Wok Sauce Pans: The Wok Sauce Pans have flat or round bottoms that ensure high heat absorption that result in fast cooking. These sauce pans are mainly useful for stir-frying and other wok frying purposes. Also, the deep figure and curved sides of these sauce pans help in the efficient food movement. They also have two loop handles that make the pan easy for carrying.
• Aluminium Straight Sided Pan: These sauce pans have straight and long sides with wide bottom space that help in high and quick heat absorption. They are generally ideal for cooking or boiling vegetables and other such raw food materials and also for reducing sauces. These sauce pans come with a lid that controls evaporation and thus accelerates cooking.
• Aluminium Rondo Sauce Pot: This kind of sauce pot has a wide area at the bottom for high heat absorption and quick cooking. It's ideal for preparing sauces, soups and stews and roasts while lowering the content. The two loops of handles make it easier for carrying and pouring of cooked food.
Selecting the right kind, size, and material of sauce pans is very important for daily cooking operations, be it for home purpose or any restaurant. Every restaurant and house requires a wide variety of cookware to cook and produce delicious and mouth-watering dishes, sauces, and sautéed food.
Usage of aluminium made utensils not only makes the cooking of food faster but also ensures non-rusting of the utensils, thus helping in long term use. Make sure to get the product from reliable Aluminium sauce pan suppliers in India so that you get the value for money.