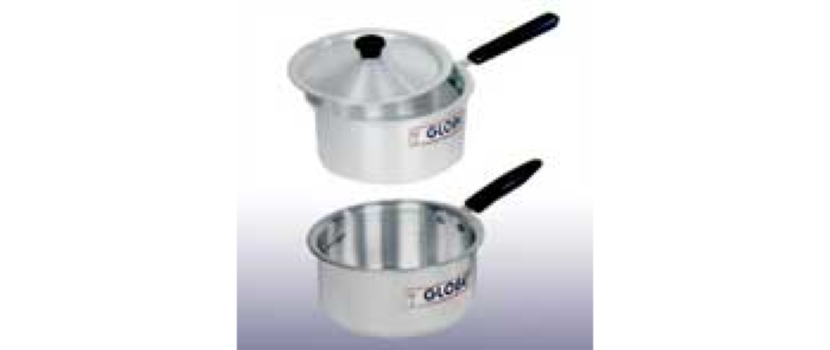 Humans are fond of new technology and invention. Everyday new technology is invented to satisfy human needs. New cooking technology and cookware system also help people to save time and energy. People try to use unique cookware that can reduce fuel consumption during cooking and save money. A saucepan is a type of cost-effective utensil that can help you significantly in the kitchen.


What is a Saucepan?
A saucepan is a common kitchen utensil with a large handle and a lid. A saucepan is made from various materials such as aluminium, copper, enamel-coated metal, cast iron, non-stick, and stainless steel. A saucepan is deep enough to boil some cooking items inside it. The saucepan has an electric coil under its surface that is used to place the pan on the flame of the stovetop.


Benefits of Using Aluminium Cookware
Aluminium is a common material that is used to make various utensils for cooking. Most aluminium cookware has a non-stick finish. Aluminium cookware has huge strength and scratch-resistant capacity. Heavy aluminium cookware has a better heat distribution system. Aluminium is an excellent conductor of heat and helps people to cook within minutes. An aluminium saucepan is light in weight and easy to clean.


Usage of Saucepan
A saucepan was first invented in the 17th century to cook liquid food items such as simmering, soups, and stewing for its unique shape. A saucepan is perfect for making any food item in a small quantity. Many people use a saucepan for boiling pasta. People can also cook potatoes, lentils, and risotto. Do not place a non-stick coating saucepan over an oven.


What is the Shape of the Saucepan?
A saucepan has a unique shape. The deep bottom line, high sides, and sharp edges with a long handle are the unique shape of the saucepan. The maximum saucepan hasa lid facility that is associated with its height.
The height of the saucepan is responsible for distributing the heat through the pan. The height of the saucepan prevents the spillage of liquid while cooking. Thus water boiling process is done safely in the saucepan due to its shape.


Process of Choosing the Cookware
When you want to buy any cookware, check the heat conductivity of the material. For instance, aluminium is good heat conductor than stainless steel. Better heat conductivity means you can prepare your food within a short time. Thus it can consume less fuel. The price of the cookware is also an essential factor. If you want to use the cookware for a long time, you can choose durable cookware material.
But if you want to maintain the cookware in good condition, try to clean the cookware every day after cooking. Regular cooking oils may reduce the shine of the cookware over time. Washing with lime-based dishwashing liquids is essential to maintain the shine of aluminium cookware for a longer period.


Process of Choosing the Best Saucepan Manufacturer
When you want to buy a saucepan for cooking, you should consider the following tips for choosing a manufacturer-
Authentic manufacturers should sell various cookware materials such as stainless steel, aluminium, cast iron, clay, non-stick surface, and copper. Stainless is made from a combination of iron and nickel.


Pure aluminium cookware is an excellent heat conductor after copper. Aluminium cookware is light in weight and easy to carry everywhere. Non-stick aluminium cookware is in huge demand, and authentic aluminium saucepan manufacturers provide a vast range of aluminium cookware and saucepan at a reasonable price.


Buyers can verify the authenticity of the manufacturers through their online reviews and photos. You can ask for few samples from the manufacturer to avoid fraud activity.


Drawbacks of Saucepan
Although a saucepan is useful for cooking, it has a few drawbacks. The size of the saucepan is available in limited shape. One can prepare small amounts of food in a saucepan. If you want to prepare food for many people, a saucepan is not a useful utensil.


Due to the shape of the saucepan, frequent stirring is required to avoid food burning. A portion of burnt food can spoil the dinner plan. One cannot clean the saucepan properly due to its shape. It is hard to clean the sharp corner at the bottom of the saucepan.


It is essential to choose an authentic saucepan supplier who provides excellent quality saucepan at an affordable price. It is vital to choose the saucepan material to save cooking time. Some saucepan materials are good for health; try to choose health effective saucepan material.