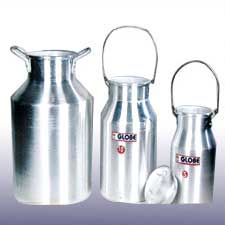 Selecting the ideal manufacturer of aluminium milk cans holds paramount significance in the dairy industry and the transportation of milk. It is crucial to ensure the utmost safety and freshness of milk, thus necessitating a careful choice. In Haryana, a renowned agricultural state in India, you are presented with a diverse range of manufacturers to consider. This article aims to provide valuable guidance in your quest to identify the optimal aluminium milk cans manufacturers in Haryana.
Quality and Durability
Choose producers who utilise high-quality, corrosion-resistant, food-grade aluminium. The cans must be robust, leak-proof and able to endure the demands of everyday milk transportation. Think about companies that are known for providing dependable, long-lasting milk cans.
Capacity and Design
Think about your particular needs in terms of milk transportation and storage. Examine the capacity options offered by the manufacturers and select the one that best suits your requirements. Additionally, consider the handles, lids, and closures that are part of the aluminium milk cans' design. These components must be simple to use and well-designed for quick milk pouring and simple handling.
Compliance with Standards
Make that the producer of aluminium milk cans complies with the necessary safety and quality standards. Seek out producers who comply with regulations like ISO certifications, assuring that their production procedures meet global quality standards. Standards compliance guarantees the milk cans are hygienic and secure for milk storage and transportation.
Reputation and Customer Reviews
Find out the producer of aluminium milk cans' standing in the marketplace. To determine their general level of client happiness, look for customer reviews and feedback. Positive evaluations show that the manufacturer is trustworthy, keeps their word, and offers top-notch customer service. Think at suppliers who have a good reputation and a history of happy clients.
Production Capacity
Find out more about the factory that makes milk cans out of aluminium. Aspects like production volume, lead time, and the ability to meet your exact order requirements should be taken into account. An organisation with a sizable production capability can deliver the milk cans on schedule.
Customization Options
Should you have specific preferences or unique requirements, it is advisable to inquire about the customization options provided by the manufacturer. You can ask for specific features, branding, or labelling to be placed on the milk cans thanks to the customization options offered by some manufacturers. With this degree of personalization, you are able to create a unique product that complements your dairy brand and meets your unique requirements.
Value for money and pricing
When comparing prices between different producers of aluminium milk cans, keep in mind that the lowest option is not always a guarantee of the highest quality. Be on the lookout for producers who retain product quality while offering competitive pricing. By assessing the manufacturer's possibilities for customization, durability, and overall value for the money, make a decision.
Customer service
Evaluate the producer of aluminium milk cans' degree of customer service. A trustworthy manufacturer needs to have an attentive and committed customer care group. A seamless and trouble-free experience while working with the manufacturer is ensured through good customer service.
Environmental Considerations
In today's environmentally conscious society, it's critical to take the producer of aluminium milk cans' sustainability practises into account. Ask them if they use recyclable materials or environmentally friendly manufacturing methods, or if they otherwise demonstrate a dedication to environmental responsibility. Choosing a producer who puts an emphasis on sustainability is in line with your own environmental ideals and helps the dairy industry become more environmentally friendly.
Long-Term Collaboration
Consider the potential for a long-term partnership with the aluminium milk cans manufacturer. Building a strong and reliable relationship with the manufacturer can lead to several benefits. Look for manufacturers who value long-term partnerships and prioritize customer satisfaction.
Careful consideration of several variables is necessary to choose the best manufacturer of aluminium milk cans in Haryana. You can select a reputable supplier of premium aluminium milk cans by taking these aspects into account. You will be assuring the efficiency, safety, and freshness of milk transportation and storage in your dairy business.