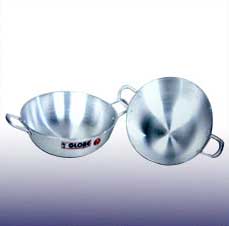 Aluminum is used in most of the cookware used in kitchens all over the world. This is because they are excellent conductors of heat and they also do not get damaged easily. It is a soft metal that can be dented easily. Hence, it is usually mixed with other metals so that their life can be elongated. Some of the most used aluminum cookware is Kadai, cooker, frypan, etc.
Aluminium cookware like aluminum Kadai is generally treated by aluminum kadai manufacturer in Haryana through a process of anodization. This is an intense process where a layer of aluminium oxide is placed on the top to make it scratch resistant.
How to use kadai?
Cooking with a kadai is fairly simple. It is the ideal utensil for the shallow or deep frying of meat, fish and potatoes and delightful Indian snacks like samosas. It is also used for the cooking of papadums, the crispy dough-based snack that often accompanies Indian meals.
But it is for the tasty stews and posola dishes, many of which bear the name karahi, that the karahi is the most well-known. Meat, such as lamb or chicken, is stewed in a base of reduced tomato and green chili and mixed with spices to produce a culinary experience that is not to be missed.
Kadai fame
The hardwearing and versatile Kadai is an essential utensil for anyone serious about traditionally cooking great tasting Indian food. And, with the growing worldwide popularity of Indian cuisine, the Kadai is becoming ever more easily available to Western cooks.
Disadvantage
There is only one disadvantage of using aluminium cookware. Aluminium reacts with sour foods that destroy the quality of food and might pose health risks.
The designing
The aluminum kadai manufacturers in Haryana take well care of the designing of aluminum kadai. Earlier round-base vessels are made. But according to the demands and for better cooking, flat-based aluminium kadai are also supplied all across the nation.
These days, though the basic design remains essentially unchanged, it is more likely to have a flat bottom to give it greater stability. It may also be made of more modern materials like stainless steel or aluminium, which may be enameled or coated to give it a non-stick surface, with some even being made out of copper.
How to get the best quality kadai in bulk?
There is numerous wholesale aluminum kadai supplier in India whom you can contact online. They have their websites for easy connectivity and online order.
Here are some qualities that you need to consider before making a deal.
• Quality
Ensure that they offer only optimum quality. Their entire product range is tested on the parameter of performance, strength, and heat.
• R&D and Infrastructure
Make sure they use the latest high-tech machinery and in-house facilities for design which are the integral structure of a robust infrastructure.
• Timely Delivery
There should be a spacious and safe warehouse that ensures delivery of the products to clients within the stipulated time frame and in perfect condition.
Aluminum kadai suppliers in India should perform customized packaging as per clients' specifications also.